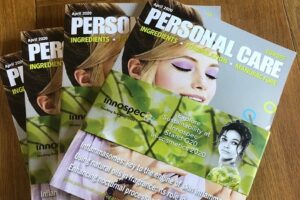 Our new article on Vita Rosalience is out now on Personal Care Magazine
Vita Rosalience is an innovative active ingredient obtained from somatic-embryo enriched culture of Rosa rugosa, also known as the Japanese white rose. In the article published on the April Issue of the Personal Care Magazine we describe the in vitro and in vivo data obtained by our research team. We address the changes of the cell metabolism during ageing; skin cells lose their biosynthetic capacity and all the mechanisms for skin cell wellness gradually deteriorate. Clinically proven, Vita Rosalience revitalizes the skin and the signs of aging are less pronounced.
Click here to read the full article!
New ingredient from Rosa Rugosa delays skin ageing – A brief synopsis
Authors: A. Tito – Arterra Bioscience spa, Naples, Italy;
C. Zappelli and M. Angelillo – Vitalab srl, Naples, Italy;
M. G. Colucci and F. Apone – Arterra Bioscience spa & Vitalab srl, Naples, Italy.
In the last years, active ingredients deriving from plant tissue cultures became highly sought after by brands and consumers, thanks to their characteristics of safety, sustainability and proven efficacy. The chemical analysis of Vita Rosalience revealed the presence of a wide range of secondary metabolites characterized for their cosmetic and dermatological activities, and already used in skin care formulas.
Phenolic acids are the most popular antioxidants produced by plants and their properties, such as radical scavengers and UV damage preservers, have been exploited for developing anti-ageing and skin protecting ingredients. Together with phenolic acids, flavonoids represent another interesting group of compounds in cosmetology, their capacity to neutralize toxic pollutants, absorb UV radiations and switch down inflammatory reactions made them extremely appealing in anti-ageing strategies for skin care. Another group of compounds are the sugar-conjugated derivatives of both phenolic acids and flavonoids.
Vita Rosalience contains different classes of compounds with interesting skin features. This extract represents a promising and innovative active ingredient for cosmetic applications, particularly suitable to treat and ameliorate skin imperfections caused by ageing process.